AquaRain™
At the heart of the AquaRain system are four high-performance ceramic filters which naturally purify your water without plumbing, electricity or chemicals. Gravity gently draws water through AquaRain's micro-porous (0.2 micron) ceramic medium, removing dangerous organisms such as cysts (
Cryptosporidium
,
Giardia lamblia
) and bacteria (
E. coli, Salmonella typhimurium
). In addition, each ceramic tower encloses a dense bed of activated carbon and self-sterilizing metallic silver which absorbs various chemicals (MTBE, chlorine, pesticides, etc) and improves water's smell and taste.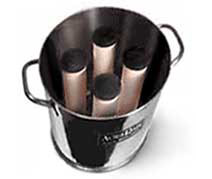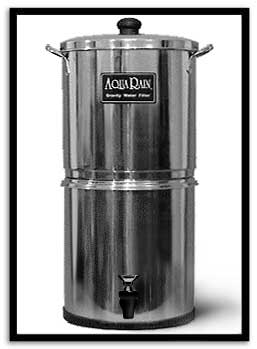 Gravity Water Filter
Natural Gravity Water Filter

We checked out some of the big water delivery companies and found that it costs about $40 a month to supply a family of four. At that rate, AquaRain pays for iself in just 5 months... and you don't have to lift those heavy bottles! Use the easy-lift handles to bring the upper half of the unit to the sink or fill in place with a pitcher.





SPECIFICATIONS:
HEIGHT: 22 inches
DIAMETER: 10 inches
CAPACITY: 3 gallons
PRODUCTION: 1 gallon per hour
MAINTENANCE: Filters may be cleaned a few times a year by gently scrubbing with the included abrasive pad. Testing has shown that AquaRain ceramic filters may be safely cleaned up to 200 times.